Sept. 28, 2019
Max LaRosa, Spencerport soccer
The senior midfielder had a goal in Thursday's big 2-0 victory over Churchville-Chili in Monroe County action to boost the Rangers to 8-1 this fall. He also had four goals in a victory over Irondequoit. He leads Spencerport with 10 goals and also has three assists.
Sept. 21, 2019
Mason Ferrara, Honeoye Falls-Lima football
The senior running back ran for 254 yards and 4 touchdowns on 20 carries as the Cougars (2-1) stunned defending Section V Class B champion and state runner-up Batavia, 41-7. The win avenged a loss in last year's sectional semifinals. Ferrara had TD runs of 7, 30, 74 and 30 yards.
Sept. 14, 2019
John Reagan, Wayne football
The senior running back rambled for 208 yards and a TD on 36 carries and also caught a TD pass as the Eagles (1-1) bounced back from a Week 1 loss to 42-12 to shut out neighbor Palmyra-Macedon 26-0 in their annual "Drop The Axe On Children's Cancer" game.
Sept. 7, 2019
Justin Graham, Victor soccer
The senior forward connected for 3 goals and an assist in a 4-1 win over Webster Schroeder. He has scored in each of the Blue Devils' wins during a 3-0 start and leads the team with 5 goals and 3 assists.
---
More of the recent boys
athletes of the week

---
Pittsford Pub
Female athlete of the week
Sept. 28, 2019
Chloe DeLyser, Marion soccer
The senior forward had seven goals and an assist in an 11-0 rout of Sodus and a hat trick in a 4-2 triumph over Gananda. For the season, the Ohio State recruit has a Section V-best 36 goals and seven assists. With 296 goals in her six-year career, she is on the brink of No. 300 heading into matches Monday at Mynderse and Tuesday at Red Creek.
Sept. 21, 2019
Michaela Leach, Irondequoit field hockey
The senior sweeper and a team captain played a key role in containing Fairport in Wednesday's 3-0 win over the defending Section V Class A champs, who were limited to one shot at goalie Elizabeth Tramonto. The big win moved the young Eagles to 3-2-1.
Sept. 14, 2019
Grace Rittenhouse, Dansville soccer
She had two goals in a 4-3 loss to LeRoy and six goals in a 9-1 win over Letchworth that ran the Mustangs record to 4-1. She is second in Section V this fall with 16 goals.
Sept. 7, 2019
Emily Parker, Brockport soccer
The senior forward scored the game-winner in a 2-1 victory over Churchville-Chili to open the season, had 2 goals and an assist in a 4-0 win over Greece Athena and assisted on the only goal in a 2-1 loss to Pittsford Sutherland.
---
More of the recent girls
athletes of the week

---
Sept. 28, 2019
Dave Hennessey, Penfield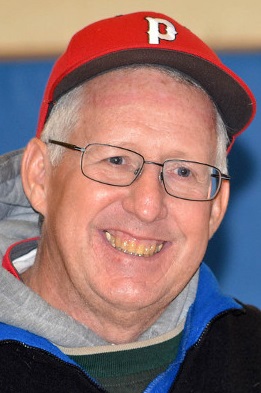 He is in his 44th season coaching cross country, indoor and outdoor track for Penfield, where "Henn" is quite honestly a legend. A retired social studies teacher, he has totaled more than 500 victories on both the boys and girls sides to become the nation's dual-meet wins leader in cross country. "Henn has a way of reaching all kids," Penfield AD Pete Shambo said. "He has positive relationships with the strongest and weakest athletes. He can be hard on kids when needed and still be beloved and he's coaching third-generation kids now."
Sept. 21, 2019
Andy Englert, Avon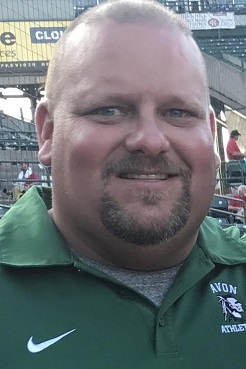 Community. Core values. Work ethic. These words are hallmarks of Englert's tenure as an athletic director and coach at Avon for 24 years. "We teach (student-athletes) to take what they've learned through athletics and apply it to life. Life is a challenge. It takes hard work and teamwork," said Englert, the AD for 17 years and a varsity football and wrestling coach for 22 and 24 years, respectively. Avon football has won sectional titles under Englert in 2008, 2009, 2012 and 2014. The real impact made by this York native and SUNY Brockport graduate is fostering a feeling of togetherness in the school and sports program. Congrats, Andy!
Sept. 14, 2019
Bob Hammer, LeRoy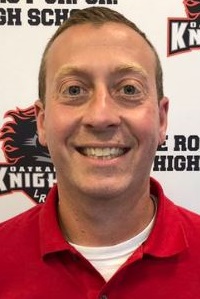 The former St. Bonaventure player is in his 12th season as boys soccer coach of the Oatkan Knights. They've never won a sectional title or reached a title game but hat doesn't diminish the influence Hammer has had on hundreds of student-athletes. "He has put his blood sweat and tears in to our program over the last decade making it a competitive program yearly in a football town," LeRoy Principal Tim McArdle says of Hammer, who also coaches modified tennis. "As our junior-high counselor he has a huge impact on so many students in our community. It's very special and appreciated." Trophies aren't needed to teach character and how sports can teach life lessons. Congrats, Bob!
Sept. 7, 2019
Mike Butler, Greece Arcadia


The Greece Arcadia grad has been a coach in his home district for 29 years and won sectional titles in girls soccer (2), boys soccer (3) and girls basketball (6) at Athena. That's 11 "blocks," including from 2014-16 with Athena boys soccer highlighted by the 2014 state title. What's he most proud of? The growth his first team -- Odyssey boys basketball -- showed in the mid-1990s. The brand new program went 0-21 its first year. Two years later, it played for a sectional crown. Teaching. Learning. Growing. That's the legacy Butler will leave in Greece. Congrats, Mike!
---
More of the recent coaches of the week

---